Corporate Gratitude Consulting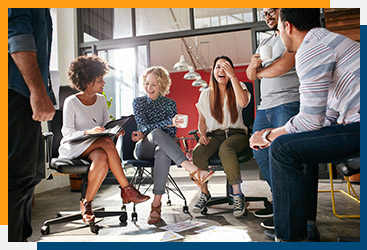 It's time to kickstart productivity, employee engagement and financial growth with a team of professionals by your side.
Adopting a "corporate gratitude" culture can create a work environment you'll be proud to operate and your employees will love to work in.
We help your everyday culture become an environment of support, appreciation and going above and beyond.
Companies that choose to embrace gratitude in the workplace see happier employees who want to stay.
Rely on the Matt O'Grady Coaching Corporate Gratitude Program to:
Drive employee engagement
Improve employee retention
Encourage effective communications
Implement new strategies
Improve employee commitment to goals
Connect co-workers and supervisors
From writing a thank-you note to your employees to giving verbal praise for a well-done project, there are many actions you can take to boost the overall feeling and mood at your business.
Allow us to teach you everything we know!
At Matt O'Grady Coaching, we work hard to ensure your company is set up for success. Whether you run a small startup or a Fortune 500 company, we would be happy to offer consulting, coaching and support on how to maximize all your companies success by launching a Corporate Gratitude Culture.